The concept is, quite simply, Heaven on 2 wheels, a fantasy vacation for the true motorcycle freak. However, time at Moto-Fantasy can include all the other stuff you and your significant other might enjoy in life too. Golf one minute away, hiking, biking, rafting, kayaking; rock climbing, you name it, it is here.
Surrounded by all these amazing recreational pursuits available in so much beautiful country, and with choices for music events on site and off as well, restaurants, brew-pubs, and Central Oregon's propensity to have some great shopping or event going practically daily, you won't know what to do, but we will help design the perfect time here that will make a stay with us one of the premier vacation experiences you may ever have.
Check out these suggested Rides!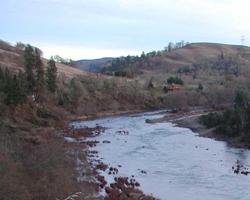 Crater Lake/Umpqua River/ Dorena Lake/Highway 58 S
Crater Lake/Umpqua River/Dorena Lake/Highway 58 Salt Creek Falls/Willamette Pass: This loop takes you to spectacular Crater Lake, then to wonderful curves and sights along the famous Umpqua River, up some tighter curves to Dorena Lake and back along Highway 58 to Salt Creek Falls, and then over Willamette Pass along beautiful lakes. These are great roads, with many places for photo ops. Take your time and enjoy the sights and the great corners.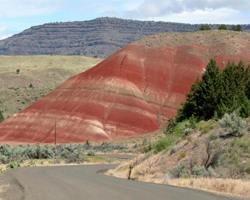 Fossil Beds/Post-Paulina Rd
This Loop takes you back in time on amazing roads through the Ochoco Mountains, along the John Day River to the Fossil Beds, where dinosaurs once roamed, and on to John Day, where lunch can be had. Head south to some wonderful uphill curves on Highway 397, and in too few miles you'll turn west toward Paulina. Not to fear, however, because you are now on the famed Post-Paulina Road, full of fast sweepers, some tight curves and great visibility. Watch out for a bit of gravel here and there, and a few potholes to test your targeting skills. You are in the country after all, and the ride is beautiful. Stop off in Bend at a number of great brew-pubs.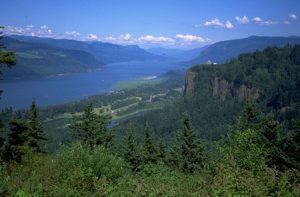 Columbia Gorge/MaryHill/ Condon/Antelope/Prineville
This day long ride encompasses the Columbia Gorge at the Dalles, then East to MaryHill, where an Art Museum awaits. If nothing else you have to stop at the American Stonehenge, literally a re-creation of the English Stone circle of the same name (What in Sam Hill?, a saying you will find out the origination of), and a tribute to soldiers of the area who died in World War I. Heading South, you take a great road to Condon, on to Fossil where a quaint and funky museum is a must see. Then head toward Antelope (stop at the cafe for a great burger and stories of the Rajneeshees (you won't believe it). Then on to the Crooked River Highway, and to the Ochoco reservoir, and back along Alfalfa Market Road, a great fast straight road into Bend.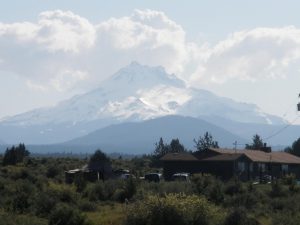 Oregon Mountain Passes Loop
This all day ride takes in views of Three Fingered Jack, Mt Jefferson, Mt Washington, Mt Hood, and many others on its curvy route. Rivers, winding roads and Canyons and Cascade Peaks are the common sights all the way. A full day you will remember fondly.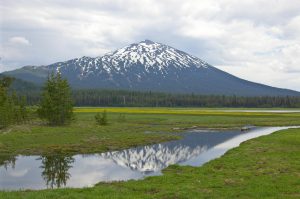 Cascade Lakes Scenic Highway
This 75 mile loop is the perfect afternoon short ride, or you can make it an all day one, with stops and hikes in a myriad of locations along the way. Cultus Lake and Elk Lake Resorts have restaurants, and the Beach Stop on Elk Lake may make you wish you had a swimsuit on warm afternoons, while the view is something to contemplate and is just a great place to sit and shoot the breeze.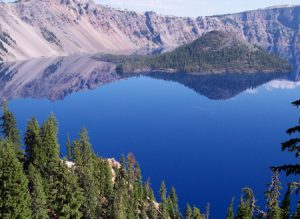 Crater Lake/Silver Lake/Cowboy Dinner Tree
Heading south from La Pine on Highway 97, you are on an easy 75 mile cruise to the North entrance of Crater Lake National Park. From there head to the rim, and the look-out, and decide which direction you wish to ride around the Lake. From there, head out the South entrance, and East along a great canyon where you will finally connect to 97 north.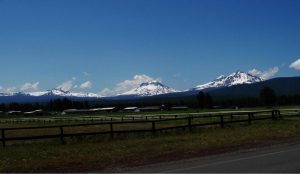 Aufterhide/Mackenzie Pass/Historic LookOut/Sisters
This all day spectacular loop has views from your saddle of Rivers, Lakes, and Mountains galore. Many hikes are available within close proximity to the road. Must stop photo ops include Salt Creek Falls on Highway 58, Cougar Hot Springs on the Aufterhide, and McKenzie Pass, an amazing historic viewpoint. Manley's at Willamette Pass, Oakridge, Sisters, and Bend have multiple places to eat.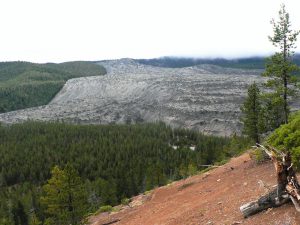 Newberry National Monument/Fort Rock/Cowboy Dinner Tree
This is a great Dual-Purpose Loop beginning at the corner of Highway 97 and Paulina Lake Rd, between mileage markers 161 and 162. It begins with a great road with few inlets, and well-banked and paved up to beautiful Paulina Lake. Stop at Paulina Lodge for lunch or a drink. Then take the gravel detour up to Paulina Peak. It is literally the BEST view you can drive to in Oregon, bar none. On the clearest days, which are many, you can see as far north as Mt Adams in Washington, and the Myriad of peaks all the way down to Mt Shasta in California. It is truly awesome. Heading down from the peak, you stop at the Big Obsidian Flow, the largest pure black glass flow in North America. You have never seen anything like it. On to East Lake, stop at the Lodge and get an Ice Cream, and sit down by the Lake. Head over the east, back side to China Hat Rd, and down to Historic Fort Rock where remains of 9000+ year old native encampments have been found. Side trips to an amazing "slot canyon" called "Crack in the Ground" can be found by heading a bit east to Christmas Valley. Heading south, stop and eat the Cowboy Dinner Tree, but make reservations in advance, and bring a cash or check, since they don't do the credit thing. The loop ends back in La Pine. Check out DiamondStone Guest Lodges and Moto-Fantasy.com for more info.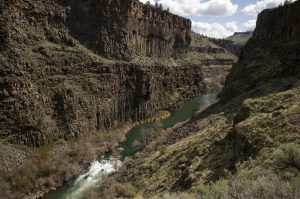 Crooked River/Prineville/ Ochoco Reservoir
Head towards Bend, and follow the road to the East of Bend, and take the back road towards Prineville. In Prineville, turn right towards Ochoco Reservoir, then along the river, up the hill and onto Highway 20, and back to Bend. Many Brewpubs await there, as a potential last stop before heading back to the Barn.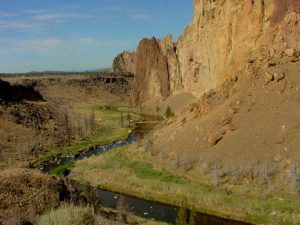 Cascade Lakes, Tumalo Falls, Smith Rock, Sisters, Benham Falls, Lava River Cave, Bend
An easy day loop to see a number of Central Oregon sites, and takes you through Bend a couple of times where 16+ brewpubs await there, or stop at a Bend Growler station before heading back to the Barn.