2021 Kawasaki Z900 ABS.
Featuring ABS, adjustable Traction Control, Power level control and adaptable Ride Modes, this Velvet Streetfighter's color LED dash is ready to provide it's rider with the information to insure a smooth, yet powerful ride. The aftermarket windscreen does a great job of breaking the wind, and available soft luggage and tank bag choices are available as well, to make this an able sport-tourer. The sitting position is very comfortable and commanding, and awesome as an all-day one-up ride. Seat height is 31.5 inches, and it's just dang fun, a great choice for intermediate and advanced riders both.
Try it and find out why Kawasaki Z-Bikes have been considered some of the best motorcycles since the first Z900 was introduced for 1972.
2020 Kawasaki Z400 ABS:
This is a fun motorcycle for beginners and experienced riders alike, and especially for those that may be short of stature. It's an amazing little corner strafer, and with 44 horsepower and less than 400 lb, it moves, and stops well too due to ABS. It also handles highway speeds quite comfortably and this one now has a windscreen, unlike the stock machine. All in all, a friendly machine that will have you smiling on Central Oregon roads.
2016 BMW R1200RS. This model heralds the return of the RS designation to a BMW motorcycle after 16 years. It represents an industry sport touring standard first established by BMW in 1978 with the original R100RS. That meant that this new RS had to reach a pretty high mark,. This bike succeeds in reestablishing that standard. At 520 lbs.,, 125+ horsepower and 87 foot-pounds of torque, it is a well-balanced partner in the twisties and a smooth operator on the interstate. This is the premium version with electronic suspension adjustments cornering ABS, sophisticated dynamic traction control, heated grips, cruise control, and luggage if desired. A great day ride or excellent long-distance companion. Seat is comfortable two-up as well.
2007 BMW G650X Challenge. This is pretty much the most serious dual-sport 650 single BMW has ever made. At 345 lbs wet, it is 50 lbs lighter than the F650 series, and has 6 more horsepower, at 53. It has less gas capacity stock but we can add 1 more accessory gallon to it's present 2.5 gallon stock capacity at 55 mpg. Ohlins suspension front and rear, combined with Brembo brakes adds assurance that this machine will handle most anything you throw at it. It is a very capable companion off-road, a fun ride.
2008 Harley Davidson Softail Deluxe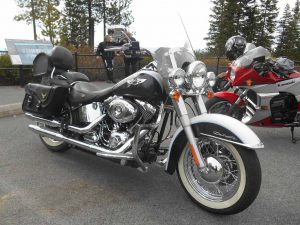 2008 Harley Davidson Softail Deluxe
Some people might ride a Harley Davidson for the "bad guy" appeal, but rather than being threatening, the Deluxe is inviting, right down to the fat white-walled tires. Seat height works well for shorter riders. A good 2-up choice, this bike has the best clutch and braking on a stock Harley ever. The bike practically drives itself.
2009 Harley XR1200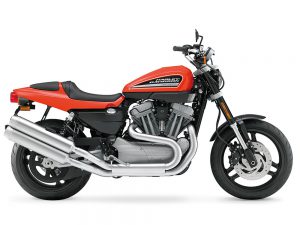 The sportiest bike ever to wear the Harley name on its tank. This is a torque monster. At 90HP and 73Ft/Lbs of Torque, it has a respectable amount of power. At 550lbs, it is relatively light, but the first thing you notice is how slender the machine is. This feels very unusual for those used to the wider engines and tanks of Japanese and European manufacturers. It has a very solid, planted feel to it, that is certain.
Check out this video on the Harley Davidson XR1200
2007 Moto Guzzi Norge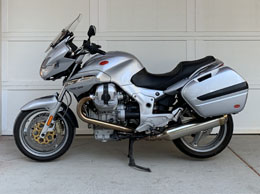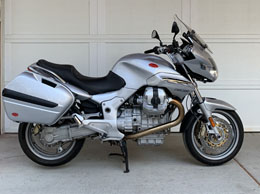 2007 Moto Guzzi Norge. This air-cooled 1200 called "The other Italian V-twin is a very capable tourer or day ride, with or without luggage, that is comfortable single or two-up.  It handles well and the shaft final drive is low maintenance and quiet.  With ABS, 95hp, and 80 ft lbs of torque, it is a great all day ride.
2015 Norton Commando 961 SE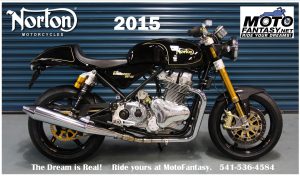 2015 Norton Commando 961 SE
The Norton Commando name is iconic in Motorcycling history. Any motorcycle enthusiast that is worth their salt knows this Marque and model of motorcycle. 2015 is a momentous year. MotoFantasy took delivery on June 13, 2015, and now has one of the first 50 new Norton Commandos coming into the US, and as far as we can tell, the only Commando 961 for rent anywhere in the world. We had a reservation and deposit on this baby for over 4+yrs. After 35 years, there really is a new Norton Commando! As is appropriate, it is a performance machine, not simply a carrier of a dead name. With South Bay Norton performance exhaust kit, it puts out 90HP and dry weighs at 414lbs. It embodies the spirit of Norton's heritage in that it is a truly competitive motorcycle in its segment, which is air-cooled sport twins such as the Ducati Monster & 1000GT & the Triumph Bonneville Thruxton. However, it will also likely compete with machines such as the BMW F800 series, and the new 800 Triumph series. In short, it is a serious motorcycle worthy of the Norton name, and it looks the part as well, while being solidly rooted in modernity. Oregon has a unique connection to this machine. Kenny Dreer, former Oregon resident and long-time lover and re-builder of old Nortons, after many years of rebuilding these classic machines, developed an evolutionary version of the machine which he tried to get funded under the rights he had purchased to use the Norton name in the US. Unfortunately, he could not bring that into complete reality. Nevertheless, he produced a prototype machine that was used extensively in the process of creating the new Commando SE. This motorcycle has Norton DNA laced all the way through it. His name should rightfullly be heralded as a developer of this machine. Cycle World said it quite well recently: "…a production Norton that feels as good as a Ducati Monster 1100S, a bike I love, is incredible. The new Commando impresses within the first mile. It balances a feeling of modernity with the character and X-Factor a bike like this needs. There are enough vibrations to make you connect with the machinery but not too many to make things uncomfortable. I immediately feel comfortable. Nothing is alien or quirky. No familiarization period is needed."
Check out this video on the 2011 Norton Commando
2016 Suzuki GSX-S1000F. This is the sane Gixxer, with a real world seating position, full coverage fairing, excellent handling, 145hp and great torque, ABS Brembo brakes, and traction control. It is a comfortable single-up sport or sport touring machine, and gorgeous as well.